Our Bounty Program is returning for Series 3! We have 3 Bounties set up for our most passionate collectors.
Visit our Bounty page to see what coins we are looking for.
Every VaultBox Series features a fun, unique, and exciting theme. Each series is loaded with hundreds or thousands of coins specially curated by VaultBox and authenticated by NGC.
The official launch date for VaultBox Series 3 will be in July 2023, with more details to be announced soon. Once you receive your box, look up the unique serial number on each coin in your box. Then, add your coin to your collection, sell it, or Cash Out quickly with our Instant Offer.
What's in VaultBox Series 3
VaultBox is going back in time to bring you the most iconic coins in American history from as far back as the 1700's. Look for Colonials, Gold Nuggets, S.S. Republic Shipwreck Half Dollars, Key Date Coins, Errors, and more in Series 3.
Look for "Red Core" Series Hits!
Among the Hits in this series are: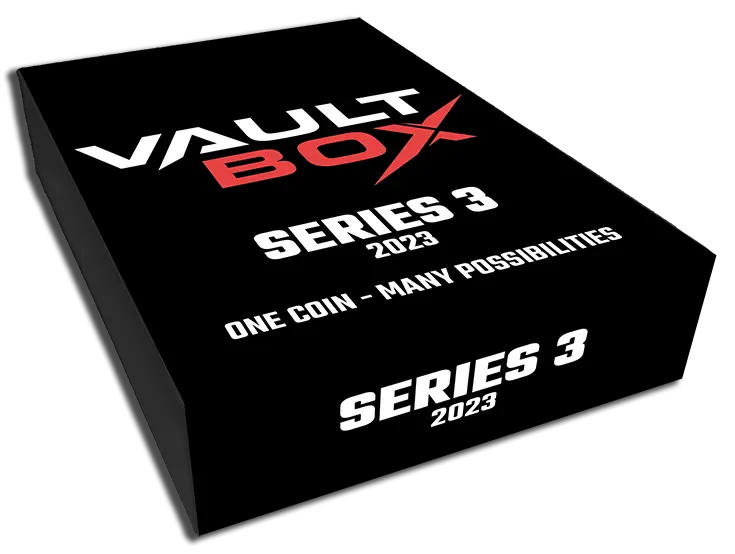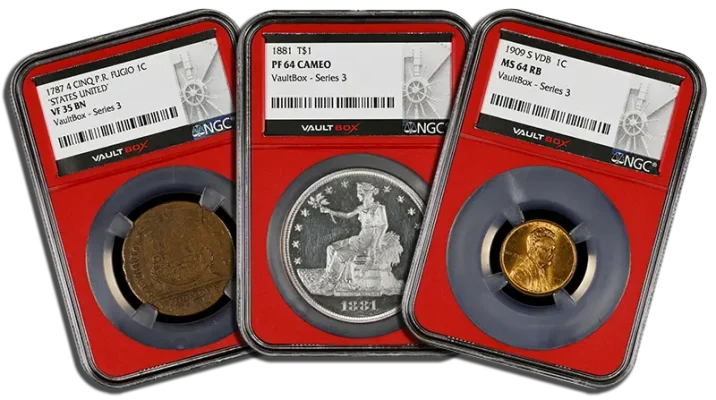 You asked and we answered: for Series 3, we are debuting an all-new single coin box. Designed to help us bring VaultBox to the masses at a more affordable price, this single coin box should bring the same thrill as opening a pack of trading cards. Combine that with the incredible variety we curated and we think Series 3 will be our most exciting series yet.
VaultBox and Goldback are collaborating to give every VaultBox Series 3 buyer a bonus with their VaultBox – gold. Every Series 3 VaultBox will include a Goldback from either Utah, Nevada, New Hampshire, or Wyoming.
Goldbacks are the world's first gold note local currency project, designed to make Gold spendable for every day transactions or collectable in an entirely new way. Each Goldback contains a precise amount of 24-karat gold from as little as 1/1000oz to 1/20oz. Goldbacks are already accepted for transactions in hundreds of stores in Utah and Nevada.
Where can I buy more Goldbacks?
VaultBox is proud to offer Goldbacks within our new curated UnVaulted marketplace. To buy Goldbacks and more click below.
Get Notified for Upcoming Series
Get notified early about upcoming VaultBox Series releases by signing up for our VaultBox Notification List. Just fill out the form on this page to be among the first to receive new VaultBox Information.